1. Verizon's Tower Sale Will Set the Market
Verizon recently hired an investment bank to help sell its tower assets.  Macquarie Securities Analyst Kevin Smithen estimates that 12,500 towers will be part of the portfolio offering, but we suspect the number to be between 10-12,000.  Verizon has suggested that AT&T's 2012 tower transaction opened their eyes; however we suspect that Verizon wisely waited to be the last major carrier to offer a substantive portfolio of towers, and believe that Verizon will reap a higher price per tower for doing so.
AT&T's 2013 tower portfolio sold for approximately $4.85 billion (~$485,000 per tower), while T-Mobile's 2012 portfolio of 7,202 towers yielded significantly less –$2.4 billion ($333,241 per tower).   We believe that Verizon will set the market both in terms of the amount per tower and the total size of the transaction.  Here's why.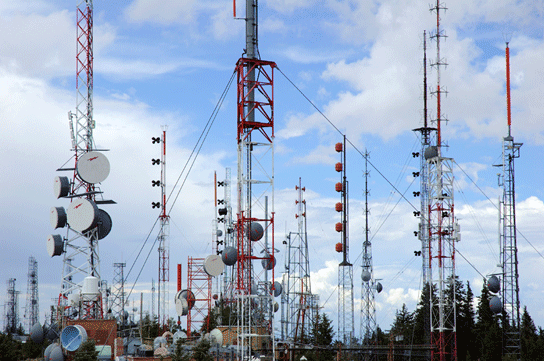 HotSpot 2.0, aka "The Next Generation Hotspot Protocol" could change how we use our wireless devices. Industry analysts project that by 2017, just two years from now, more than half of all mobile data will be offloaded to Wi-Fi networks, which is a clear case of the industry responding to consumer demand, since carriers would prefer to offload their subscribers onto their own (privately held) Wi-Fi networks than to lose them to competitors.  Luckily, it's also in the best interest of carriers (cost-wise) to do so.
The Wi-Fi Alliance recently launched Passpoint, an industry-wide protocol for Wi-Fi use.  The standards include:
All devices will identify and connect to Passpoint networks automatically;
Authentication is no longer browser-based and doesn't require a password;
All connections are secured with WPA2-Enterprise industry standards.
While these standards are ideal, we are still waiting for infrastructure builds to catch up and believe that it will be at least another few years before significant and focused roll-out occurs. Wi-Fi offloading will be an essential part of the wireless carriers' strategy, but we don't expect this to result in cellular networks or towers disappearing.  There are some fundamental technological issues with Wi-Fi that will inhibit its widespread adoption as a ubiquitous replacement for cellular service.
Interference in the Public Spectrum. The interesting thing about Wi-Fi is that all Wi-Fi use happens on two radio-frequency spectrum bands: the 2.4 GHz band is unlicensed and used for public access, while the 5 GHz band is mainly distributed by licensed wireless carriers. Unless the bands are carefully administered, users can encounter quite a bit of interference using public access points.
Signal Strength. When a large number of wireless devices are in use over a dense network of access points, it's necessary to reduce the signal power of some of them while favoring others, to avoid what is called co-channel interference.
The User Experience. A densely deployed network of hotspots doesn't necessarily provide better end-user experience due to capacity and reliability concerns. Some end-users ultimately prefer to pay for access to cellular data networks.
So How Will Wi-Fi Offload Affect Your Cellular Lease?
Wi-Fi offload will help the WSPs provide better in home service.  Both Sprint and T-Mobile already offer it, and AT&T and Verizon both have indicated they will.   This will enable seamless switching between the macro network and Wi-Fi if sufficient Wi-Fi network quality is available.  Macro solutions, like cell sites, are going to remain necessary to handle both the capacity and coverage needs of subscribers. The industry will see a tremendous amount of restructuring in the coming years.  DAS, small cells, hotspots and carrier collocation will aid in coverage requirements, but will not be sufficient to replace cell towers and rooftop sites.  With the current demand for data, the number of cell sites is going to continue to grow, and the number of requests to modify existing sites will increase as carriers continue to augment and expand their networks. This should bring peace of mind to anyone involved with, or considering becoming party to, a cellular lease tied to a tower or rooftop.
3. Small Cells and DAS Deployed in Volume
According to CTIA, at year-end 2013, there were 304, 360 small cell sites in operation – up only 9% from 2012 year-end.  Yet for the past two years (2013 and 2014), industry analysts have prophesied that this year would be the year of the Small Cell.  Unfortunately, we still haven't seen evidence of this.  SITA believes that 2015 might actually be the year of the Small Cell.   DAS and small cells are essential to delivering the coverage and capacity required by skyrocketing demand.  But instead of offering an either/ or proposition, we would like to view them as complementary options that can deliver an optimal solution.
Small cells are served by cellular base stations like cell towers, but they are low-powered and targeted to cover localized areas like stadiums, shopping malls, corporate gateways and schools. DAS technology is a bit different, but the effect is the same – they, like small cells, help relieve congestion from cellular networks by providing additional capacity in high-traffic areas, or indoors where cellular signal strength is poor.
Governments, universities, large corporations, and public venues have become increasingly aware of the importance of maximizing coverage indoors as well as out.  This is one of the reasons we see small cell and DAS deployments as the key technologies in 2015.
In the 2nd half of 2014, we observed a substantial increase in the number of inquiries to our clients and potential clients for small cell installation.   Most of these were from Verizon, and many were master lease proposals from Verizon to municipalities to utilize their street lights and utility poles.   We expect that Verizon will continue these efforts aggressively this year and that at least one other wireless service provider (likely Sprint) will step up their efforts.  Thus, to us, 2015 is the year of the Small Cell.
4. Wireless Spending and Network Parity
The newest wireless buzzword "network parity" suggests that networks are becoming fairly similar in operation and that the distinctions between them are less and less.   But how could that possibly be the case when some (Verizon and AT&T) have more money to spend on cell tower builds and technology upgrades than others (Sprint and T-Mobile)?  The top two carriers, Verizon and AT&T (with ~122M and 116M customers, respectively) invested significantly more money on wireless infrastructure deployment than Sprint (~55M) and T-Mobile (~50M) in the past year, and together control approximately 68% of the wireless industry's revenues . Network parity however, is driven more from the user end.   In other words, for all intents and purposes, as long as the customer is in a service area for their wireless service provider they will have similar service as they would with another wireless service provider.  The distinction though is in the breadth and depth of the coverage areas.
As we've stated above, Verizon and AT&T have completed their 4G LTE builds nationwide (but still need to augment for capacity in high-traffic areas); T-Mobile has stated that it will finish in the next year or so; and Sprint is doing its best to keep up, but Sprint's goal is the same as the others.  What this means is that at the end of the day, customers will have comparable capabilities (albeit with different payment packages and features).
Big Four Breakdown
According to the FCC, Verizon, AT&T, Sprint and T-Mobile spent 31.5 billion in 2013 on capital investments. Industry analysts have concluded that including spectrum license acquisitions, wireless capital expenditures for 2014 will exceed $204 billion (and remain roughly flat until the next auction in 2016).
Here's a  breakdown of the Big Four.
Verizon.  Up until Q3 2014, Verizon had spent $7.8 billion on its wireless network ($2.5 billion in Q3 alone).  Much of this was used to add additional capacity in more than 400 markets by deploying AWS-1 spectrum, which it calls XLTE.  According to Verizon's CFO, "steady and consistent investments in networks and platforms will fuel company growth." Verizon's build this year will be similar to last year- a mix of new macrocells and small cells.  Verizon will use AT&T's slowdown to expand its network quality in the US while AT&T is focused on the DirecTV integration and the purchase of wireless service providers Iusacell and Nextel in Mexico.
AT&T.  During the first three quarters of 2014, AT&T spent $17 billion on fleshing out and upgrading its wireless network, although costs associated with integrating Leap Wireless (Cricket) were included in this figure.  Additionally, as mentioned above, CapEx for the second half of 2014 was significantly less than in the first half.  AT&T's CFO stated that the company rolled out LTE to 300 million POPs four months ahead of schedule. AT&T's plans for 2015 include a reduction in CapEx by about 18% which will translate to fewer new sites being built.   The primary reason for this is the proposed purchase of DirecTV for $41 billion.
Sprint.  Sprint reported that it spent about $1.3 billion per quarter in 2014.  Its successes included reaching 254 POPs with its LTE coverage.  It also launched Spark, which uses carrier aggregation technology to boost speeds, in 27 markets. In 2015, Sprint will continue to overlay its market with 2.5GHz antennas which means existing landowners with Sprint will receive inquiries about modifications to existing Sprint equipment.  However, there won't be many new macrocells this year.
T-Mobile. T-Mobile spent an average of $1 billion per quarter during the first three quarters of 2014.  It reached its 2014 goal of covering 250 million POPs and has pledged to reach 300 million by 2015.  The carriers say that it is aggressively building out LTE as well as wideband LTE to augment capacity in high-traffic demographics. T-Mobile's 2015 plans are a bit of a mystery at this point, but our expectation is that T-Mobile will continue to add macrocells at a slow pace, possibly as high as 1,000 new sites this year.