Although it shouldn't come as much of a surprise, Shentel (Shenandoah Telecom- a Sprint affiliate) is acquiring NTELOS.   This deal has been rumored for a while.   Sprint will receive NTELOS spectrum assets and will pay $252 million in cash over the next 5-6 years. The two maps below show the NTELOS existing coverage (first) and then the Shentel coverage areas.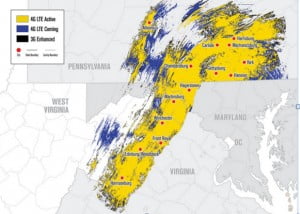 (From NTELOS/ Sprint Presentation and Sprint website, respectively)
In 2012, Shentel secured a deal with Sprint to add LTE to its network and share 1.9GHz and 800MHz spectrum with Sprint. The current deal includes the right for Shentel and NTELOS to use Sprint's 2.5GHz spectrum.
In 2014, NTELOS announced its intentions to abandon operation of its network in Eastern Virginia and agreed to sell its regional spectrum licenses to T-Mobile for $56 million. In those areas, NTELOS was planning on shutting down its network assets. We wonder whether this is part of an overall orchestrated acquisition of NTELOS by Shentel.   Immediately after the announcement to shutter the Eastern part of the NTELOS network, NTELOS agreed to sell 103 of its cell towers for $41,000,000 to Grain Management (or $398,000 per tower).   As part of the deal, NTELOS agreed to remain on the towers located in the Western markets.   The announcements for this deal do not blatantly say it, but imply that NTELOS will or has terminated the tower collocation leases in the Eastern Markets. This might explain the lower price per tower than comparable carrier/tower company deals.
CELL SITES AND TOWERS
Below is an image from the Shentel website showing "Fiber to the Tower".   This map shows a number of Shentel's tower locations, however there also seems to be some other structures represented that Shentel may not own. In previous press releases, Shentel is represented to have 525 cell sites. This doesn't mean that they have 525 towers.
NTELOS on the other hand had approximately 1,225 cell sites deployed in 2009 and likely has closer to 1,400 now. It has shuttered some towers and sold the others (as discussed above) to Grain Management.
WHAT DOES THIS MEAN TO TOWER OWNERS OR GROUND LESSORS WITH SHENTEL OR NTELOS AS TENANTS?
If you have land with a NTELOS tower or a tower owner with a NTELOS collocation and are located in the eastern part of the NTELOS markets, you may have already received a termination notice for your structure or collocation lease or been contacted by Grain Management to renegotiate the terms of your ground lease agreement.
If you are a landowner under a Shentel tower or a tower owner with Shentel as a tenant, you likely don't have much to worry about.
It appears that as part of the deal, Sprint/Shentel intend to deploy 150 new sites over the next three years over the combined network service area. Thus some Virginia landowners may be contacted in the future for a new tower.
If you receive any inquiry from Grain, Shentel, or NTELOS about the negotiation or renegotiation of a new lease agreement or a revised existing agreement, please contact us.