All in all, the conference was well done if not well attended. Personally, I think it is a rough year for wireless industry conferences. That is too bad in this case because the panels, for the most part, were thought-provoking and enjoyable. NEDAS chose the moderators and the participants well. Here is what we took from the conference.
1. The Wireless Industry Strongly Desires Predictability and Is Looking to the FCC to Obtain It.
Obviously, this is not a new theme. Despite moderately successful efforts to regulate small cell permitting and fees at the state level, the discussion at the conference was that in those states where legislation was passed, it actually takes longer to get small cell permits now than it did before. Some people suspect that this is due to the contentiousness behind the debates leading up to such legislation.
Most of the participants at the conference indicated that the difficulty is the patchwork of fees, regulations, and processes along with general ignorance by municipalities of what small cells are and what they do. We heard repetitively that industry participants understood the issues that municipalities face in getting up to speed and establishing processes and hiring staff members or reallocating staff time to address exponentially increasing small cell applications. Despite this recognition of the hurdles for municipalities, we also heard repetitively that the process still takes longer than it should. Personally, I think that the industry has a heightened and, candidly, an inappropriate level of expectation about how fast permits should be reviewed given the novelty of these applications and infrastructure. They assume that services by municipalities on hundreds of concurrent small cell applications should be handled immediately and at limited cost recovery. There were actually complaints at the conference from carriers who felt that permit turnaround in 60 days was insufficient and "impairing" their ability to roll out 5G despite the fact that standards aren't even set yet for 5G.
The hope, though, is that the FCC will step in and create a uniform set of expectations in terms of the timing and process for small cells. Sentiment for strong FCC involvement seemed to be higher than normal at this meeting, primarily due to the slow rollout of states that have adopted small cell legislation and the vetoing of similar legislation in California.
2. Speaking of Small Cells, There Is a Disconnect Between Cities and Wireless Industry Participants and Observers on Who Does Small Cells Best.
In preparation for the conference, we spoke with multiple cities about their experience with applicants for small cells. We had lengthy discussions about what they saw that worked, who was the easiest to work with, who was most flexible, and what they did and didn't like. In our discussions, Crown Castle's name came up more than any other company as best to work with from the city planner's perspective. We won't say who came up as the worst, because they might threaten to sue us, but your first guess is almost assuredly right.
In anticipation of the conference, we ran a Twitter poll to ask whom industry participants and outsiders felt did the best job at working with cities on small cells.
Before the comments start flowing, we fully recognize that a Twitter poll should not be taken as gospel. We also realize there are many issues with the poll that include the limitation on companies considered, the form of the question, and the possibility that it is unlikely that there are 1,000 respondents with enough information about what all four companies are doing to make an informed vote. Nonetheless, it is helpful to show that, on the limited basis of this, there is a dichotomy on what we heard from our limited sample set of cities and what the public generally perceives regarding which companies are most effective at working with cities.
3. Some Industry Participants Question Whether 5G Has a Clear Path to Profitability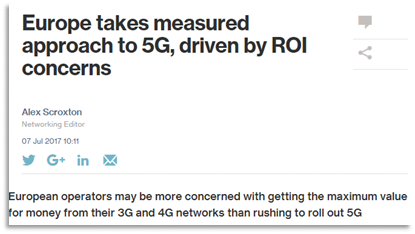 While there were a lot of statistics thrown around about fixed wireless, connected devices, increasing data usage, and video usage, none of the presenters or the people that we spoke with at the conference could enunciate how wireless carriers were going to generate more EBIDTA from the Capex deployed in the space. One particularly enjoyable and friendly exchange occurred between Charles McKee, VP-Government Affairs, and Milo Medin, VP Access Services of Google Fiber. After Charles discussed the issues that Sprint runs into when trying to permit small cells (all while completely ignoring Sprint's role with Mobilitie and some of their "issues"), he addressed the need for densification in anticipation of 5G. Milo, in response, mentioned that he had a hard time seeing the rapid and robust deployment of 5G by the wireless carriers in the US. He believed that, given the industry environment with declining ARPU, increasing Capex expectations related to 5G, and broadband alternatives available to subs (now and in Google's ideal 3.5GHz/Webpass future), he didn't see how 5G deployment on the scale discussed by the industry would be economically viable. We don't believe that Milo was saying that 5G in its entirety was not economically profitable, just that industry expectations relative to fixed wireless and massive densification are overstated. Personally, we believe strongly in the iterative nature of 5G as compared to 4G, but don't see commercial 5G fixed wireless supplanting or even substantially diminishing wired share.
4. The Edge Will Get Closer and Closer to the End User
Much was made throughout the day about the edge and the need for putting data centers and caches near the edge. While we aren't sold that tower companies have any unique vantage point over other more traditional fiber and data center plays in edge computing, we did leave the conference very sold on the need for edge data services. It is way too easy for the wireless industry to trot out the latest statistics that some large advocacy firm puts out, but even if you substantially reduce those statistics, you are left with strong, compelling evidence that the push to the edge is already here and will only accelerate. All of the panel participants suggested that this movement to the edge is a real estate play. We agree, but believe that there are many other sophisticated real estate/technology players out there who either have better fiber (owned not leased), better real estate, better access to ROWs, and better and more established connections to entities that need edge servers. As Doug Wiest said, the small cell/DAS/fiber/edge computing/data center world is significantly more complicated compared to towers. One thing is clear – the edge will keep getting closer to the end user and both wired and wireless networks will need to be more "accessible."
5. Tech Giants Like Amazon Will Absolutely Go Wireless, Or Maybe They Won't?
Multiple speakers included references to the FANG (Facebook, Amazon, Netflix, Google) companies or spectrum owners like DISH entering into the wireless market in some capacity. Not necessarily as a wireless provider, but to provide access to their services and/or content. The problem is that not one of them gave any tangible evidence of why they expect this to occur. The general line of thinking is that these companies will need to protect their ability to serve or sell to their users on mobile. However, everything we are seeing suggests the opposite. Google seems to have very sporadic interest in broadband, Amazon is and has been in talks with DISH for some time, Netflix works out direct deals with broadband providers, and Facebook and Microsoft seem intent on acquiring and developing tech companies that they can then distribute on an open source basis for others to use. The ironic aspect of this to us is that none of these participants discussed the obvious entrants – MSOs like Comcast and Charter who continue to expand into wireless without much fanfare other than Comcast's initial wireless MVNO launch.
6. Tower Companies Are Asked to Remember Who Their Client's Clients Are
There was continued discussion about how the tower company business model is broken and how these companies have forgotten how to make their client's (wireless carriers) clients happy. The supposition by some panelists is that those companies that will best serve their constituent clients will be the victors in the changing wireless and wired broadband world.
The analogy made was to the Minecraft Generation. As one panelist indicated, this generation thinks in terms of data. Voice is just another IP service to be provided on their device. These subscribers aren't afraid to seek out the best connection – whether wired, wireless, or fixed. They just care about being Always Best Connected. The tower companies that help the wireless and non-wireless companies best connect to their subs will stand to gain more than those that just hope that increasing data usage alone will cause lease-up.
It must be stated that the public tower companies were not on any of the panels, so their point of view was not addressed. Nonetheless, we think that the play, in the US at least, is for tower companies to become more than just dumb pole providers. Vertical Bridge and Crown Castle are both pursuing being more to the carriers than just a tower owner.
Final Conclusion
Attendees were excited at the show about advancements which seem to be coming faster and faster on an exponential basis. There is also more skepticism/optimism depending on whom you spoke with regarding the opportunity for non-wireless participants to expand their wireless offerings and for traditional wireless companies to incorporate fiber and fixed wireless to offer wired-like offerings. NEDAS should be commended for sponsoring such thought-provoking discussion.