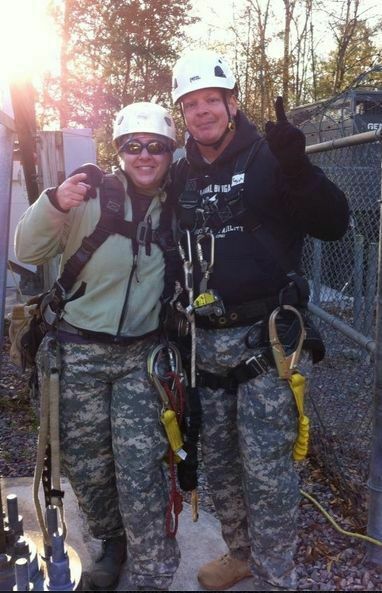 Molly Cooper began her career in the tower industry at the bottom, literally climbing her way to the top – sometimes as high as 1400 ft.!  Ten years ago, she was one of the few women tower climbers in the country, and today she's the chief instructor for The Warriors 4 Wireless program.  Headquartered in Aiken, South Carolina, Warriors 4 Wireless is a college-accredited program that provides certificates in Tower Installation, and teaches everything from rigging and fall protection to OSHA, First-Aid and wireless infrastructure dynamics including spectrum allocations and technology.
This January, over 160,000 service persons will exit the military, many of whom have no idea what their next move will be.  Warriors 4 Wireless is a White House initiative, spearheaded by the Department of Defense in June 2013.  Its goal is to place at least 5,000 vets in Wireless Tech Jobs by 2015.
Molly Cooper, who, prior to being swept away by W4W, was employed as an assessment analyst by Steel in the Air, says that the initiative will improve the way the cell tower industry functions.  "Not only do vets know how to tie a knot, but they can work hard, and already exhibit skills like teamwork, leadership and resiliency, says Molly."  According to Molly, there are currently approximately 10,000 trained tower climbers in the United States – a number that is not nearly big enough to fulfill current infrastructure deployment demands.  If, for instance, just one wireless carrier had plans to deploy LTE upgrades to 6,000 cell sites, and since it takes four hours for one crew to upgrade one cell site, that would add up to roughly eight hours of work per crew every day for eight years.
In other words, the more capable and qualified tower climbers that enter into the industry, the merrier.  In fact, according to Molly Cooper, the Warriors 4 Wireless initiative, which repurposes skilled vets, will be essential in driving the necessary technological advancements that are required to fulfill the current telecommunications boom brought on by rising consumer demand.
Steel in the Air's president, Ken Schmidt, is proud of Molly's effort.  "We are sad to see her go, but we know the work she's doing placing vets in a burgeoning field is meaningful."  It's a win-win situation that's great for the industry, as well as the vets. They get to readjust to civilian life in an environment of peers where the work is challenging and the schedule is flexible.