Steel in the Air's new GIS Tower Mapping app integrates with Google Earth and Bing Maps to provide visual access to any of the 285,000 towers in our database. Our GIS Tower Mapping app is used in conjunction with our proprietary cellular asset databases to chart existing cell sites across the nation (on towers, building and other structures).
Specific data points (height, ownership, site type, etc.) can be queried for each individual cell site, which, when clicked on, provides identifying information that can be useful when evaluating appropriate lease rates or buyout offers. Additionally, we can can query our Tower Mapping app to show "all towers in [a given area]" or "all leases with lease rates [that exceed or are under a given amount]." Our Tower Mapping App will render a final 3D browser-based topography map, as you see here:
Our proprietary GIS Tower Mapping App is useful when evaluating:
the number of cell towers and cell sites in a given area (This includes cell towers and other structures, such as rooftops, water towers, steeples, etc.);
the fair market value of a proposed lease given the lease rates in a particular area (Please note that the fair market value of a cellular lease is NOT an average of the lease rates in a given area. Comparable lease rates are just one factor of many);
the relative value of any proposed leases (based on the existence of comparable potential cell site locations in a given area);
the potential for consolidation of existing towers;
the population density of a given area to determine if subscriber needs are being met;
the likelihood that the lease will be terminated or expanded upon in the near future; and
the potential capacity of the cell tower and number of tenants, which provides insight into future infrastructure deployment strategies.
How We Present Data to Our Clients
We're happy to generate unique files of specific 3D data sets for your own use. We can even provide you with a version of our GIS Tower Mapping App, which would enable you to conduct your own searches.
Aerial Map
We can use any number of data points to generate bird's eye topographical maps. We can also zoom in on any given tower to analyze existing vs. potential carrier collocation, capacity and coverage metrics.
Street View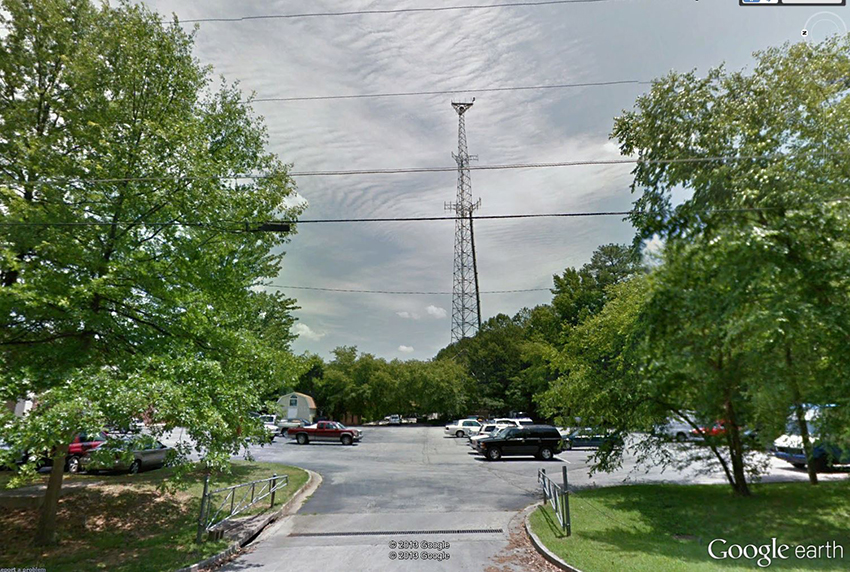 Street views are useful, for example, when examining the ground space (lease footprint) tied to a given cellular lease, in the case where our clients have received consent requests for carriers and tower companies.
Competing Cell Sites (Towers/ Buildings/ Structures)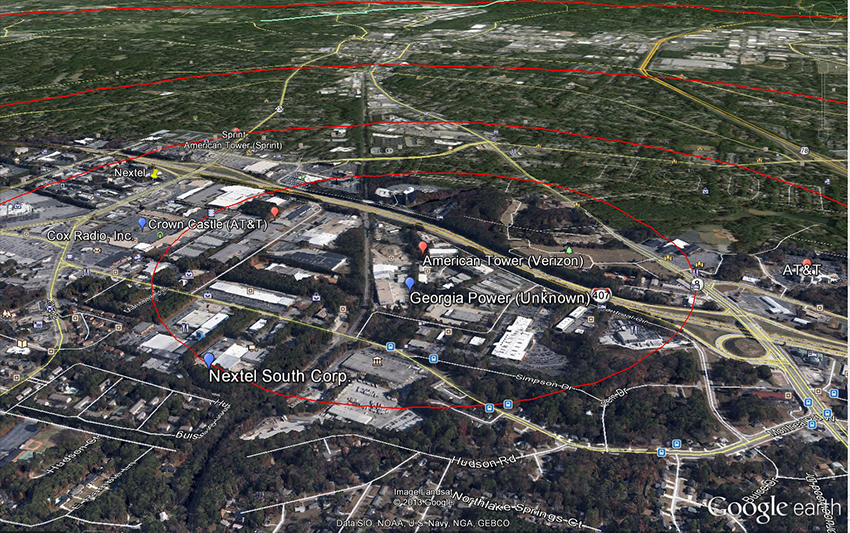 This map shows all towers, buildings and structures within a given area that are in currently use, as well as potentially viable sites that could be used for future infrastructure development.
Wireless Carriers Subscriber Base
We have access to FCC data on wireless carriers and allocated spectrum licenses. This map shows the wireless carriers that service a given area based on POP (potential customers within a given population).
Our Cellular Asset Database is Singular, Robust and Conversant
Steel in the Air has been collecting cell tower, cell site, and lease rates data since 1999. Since then, our proprietary cellular asset database has grown to encompass over 285,000 cell tower and cell site locations nationwide. We have served over 3,000 clients, reviewed over 8,000 cellular leases and tracked over 2,000 lease buyout offers. Through our partnership with SteelTree Partners, we has assisted in brokering over $800 million worth of tower sales in the past ten years.
We spend over $50,000 each year maintaining and updating our database. We utilize and cross-check public sources, such as the FCC and corporate quarterly earnings reports with private sources (e.g., our clients) to ensure that all variables are relevant, accurate and actionable. Our 3,000 plus client base has contributed information on over 7,500 cellular leases nationwide. In addition, we actively poll public entities regarding their wireless leases and input specific data points. Our cell site data spans all 50 states, as well as parts of Canada, Mexico and the Caribbean.
We are proud to say that no other independent lease consulting company has access to data as robust, timely and accurate as ours. We update our database daily, and use it to perform strategic client-specific searches.
Our cellular asset database is comprised of four main areas of client inquiry: Cellular Lease Rates, Lease Buyouts, Tower Sales and Tower Locations.